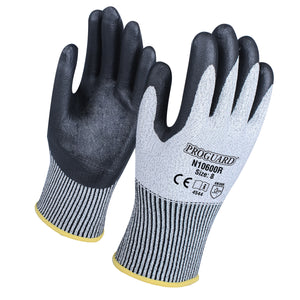 RAZOR X5 Cut Resistant Breathable Nitrile Coated Glove
Product Code: N10600R
Features:
13 gauge RAZOR X5 liner, breathable nitrile palm coated glove enhance comfort and dexterity.
Provides good resistance to blade cut and maximum tear resistance. 
Lightweight liner construction gives outstanding comfort and durability.
Anti-slip nitrile on the palm and fingers to provide enhanced grip properties.
Suitable for general work, glazing, steel industry, steel metal fabrication, bottling and canning, waste and recycling. 
EN standard test level – 4544DX.
Product 
Size
Length
N10600R
M, L, XL
24cm 

– 26cm (9.4" – 10.2")
Comply with EN 388:2016.
---
We Also Recommend