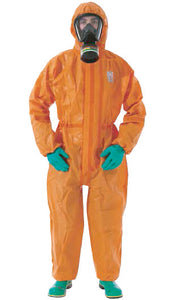 AlphaTec 5000
Product Code: MC5000
Features:
Alphatec 5000 reaches new levels in chemical protection and has been engineered to protect.
The highly visible multilayer fabric is strong, durable, and suitable for workers in extremely hazardous areas, including HAZMAT response team. 
Protection against organic and inorganic chemicals, and biological agents.
Applications: Chemicals, oils and petrochemicals, pharmaceuticals, mining, agriculture, first responses, fire services, industrial and tank cleaning, and sewage purification installations.

Tested according to EN1149-1.
---
We Also Recommend