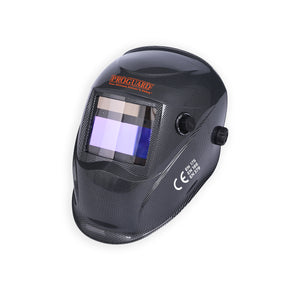 Auto Darkening Helmet
Product Code: NOVA-616G
Auto-darkening welding helmet designed to protect the welders' eyes from harmful radiation including visible light, ultraviolet radiation, and infrared radiation resulting from certain arc and gas welding processes. 
Suitable for all types of electro welding, covered electrodes, plasma welding, cutting, and laser welding except gas welding.
Features:
High definition protective filter allowing excellent and safe visibility when welding. 100 (L) x 45 (H) mm window. 
Welding luminosity is soft and comfortable.
The observing window darkens immediately when striking the Arc Sensor 4.
Power Supply: High-performance solar cells and lithium battery.
Internal variable sensitivity and delay time can be adjusted. Delay time 0.1s - 1.0s.
Shade Variable: Shades, DIN4 / 9-13.
Limited Working Temperature Range: -10C to +60C.
UV/IR Protection DIN16
Comply with EN175, EN166, EN379, & ANSI Z87.1.
---
We Also Recommend