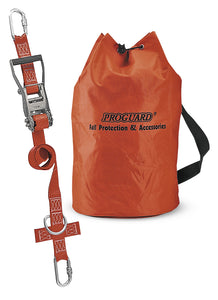 Horizontal Anchorage Line
Product Code: S790-10 / S790-20
Features:
Portable horizontal lifeline allows movement sideways with absolute safety. The lifeline should connect horizontally in-between two anchor points and it is adjustable with the retractable handlebar.
Built-in with 1-pc webbing retractable, 1-pc D-ring, & 2-pcs carabiner.
Available in 10 meter & 20 meter.
Comes with PG0190 MPB Multi-Purpose Bag.
Product Code
Dimension
Packaging
S790-10
45 mm x 10 m
1 unit/box
S790-20
45 mm x 20 m

Conform to BS EN795. 
---
We Also Recommend