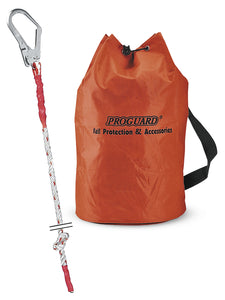 Life Line
Product Code: LL738-1410 / LL738-1420 / LL738-1430 / LL738-1610 / LL738-1620 /
                          LL738-1630 
Features:
These lifelines are generally used in conjunction with a fall arrestor or a rope grab, giving the freedom of vertical movement, while providing a passive fall arrest system. It can also be used horizontally.
14 or 16 mm diameter anchor line is built-in with 1-pc large opening hook.
Available in 10 meter, 2 meter, & 30 meter.
Comes with PG0190 MPB Multi-Purpose Bag.
Product Code
Dimension
Packaging
LL738-1410
14 mm x 10 m
1 unit/box
LL738-1420
14 mm x 20 m
LL738-1430
14 mm x 30 m
LL738-1610
16 mm x 10 m
LL738-1620
16 mm x 20 m
LL738-1630 
16 mm x 30 m

Conform to BS EN353-2 & SIRIM certification no.: PP071010.
---
We Also Recommend