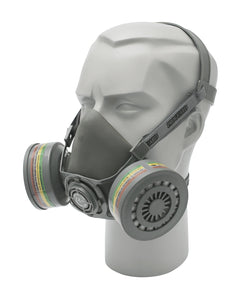 Proguard Twin Cartridge Half mask
Product Code: PHM8000
Features:
Ergonomically designed mask body, made from TPE material, lightweight, easy to use and maintain.
Good fit for most Asian face contours, giving a good seal and high level of breathing protection.
Head cradle contoured according to the skull, giving good hold and wearing comfort.
Adjustable elastic band gives even support and distribution of weight.
Comply with BS EN140:1999, certified by SIRIM QAS.
*Filters sold separately.*
---
We Also Recommend