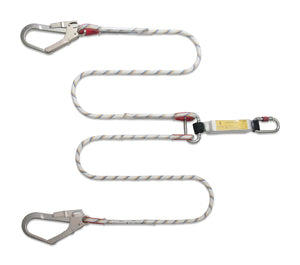 Twin Kernmantle Lanyard with Mini Energy Absorber
Product Code: KRL-141068-LOH
Features:
Made of kernmantle rope with indicators blue and yellow line. Replace it when the running lines fade which indicates that the lanyard's life has worn out. 
Built-in with 2-pcs KRL-1LH lanyard with 2-pcs carabiner and 1-pc of mini energy absorber.
Conform to BS EN354 & SIRIM certification no.: PP071005 for lanyard; BS EN355 & SIRIM certification no.: PP071004 for energy absorber. 
---
We Also Recommend