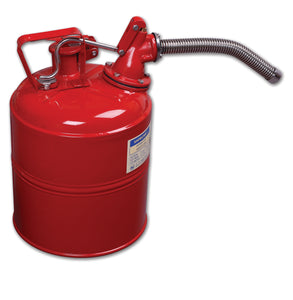 Type 2 Safety Storage Cans
Product Code: T2-20 / T2-25
Features:
Separate openings for both filling & pouring. The pouring is done with a flexible metal spout. 
Reliable Double Torsion Spring (RDTS) which automatically relieves internal pressure, preventing can explosion.
The finishing is a matted surface of pigment & resin powder coating creating a decorative and protective surface.
Full flow flash arrestor protects flammable contents from external sparks or flames. Its design allows for faster filling at the gas pump and prevents annoying nozzle click off. Quarter-turn can locking ring meets the requirements to be replaceable and secure in place. 
Vapour control flexible nozzle directs the flow to control spilling and the escape of toxic vapours. A brass tip prevents sparking or static build up.
| | | |
| --- | --- | --- |
| Product Code | Capacity | Weight (Lbs) |
| T2-20 | 2 Gallon / 7 Litres | 9 |
| T2-25 | 2 1/2 Gallon / 9 Litres | 10 |
---
We Also Recommend